---
"Once we have partnership we start training"
Tik Maynard
---
Tik is a fresh and dynamic young horseman with a glowing future. He has been earmarked as Canada's rising star and tipped to change the face of competitive eventing. His empathy with horses and humans alike and his charismatic nature, make him an impressive trainer.
His following in the UK has grown since his first clinic and demo here in 2014, seeing him in Scotland as well as England in 2015, 2016 and 2017, also featuring in and writing for Chiltern and Thames Rider and Horsemanship Journal magazines.
Tik writes regularly for a number of US publications, including The Chronicle of the Horse, Practical Horseman and eventingnation.com. In 2018, his first book 'In the Middle are the Horsemen', was published in the US and the UK.
Amongst his many other credits, Tik also won the Freestyle, out of more than 200 trainers entered from across the globe, at the Retired Racehorse Project's Thoroughbred Makeover Competition and National Symposium, both in 2015 and 2018, showing off his flair for making connections with horses and getting the best out of them, whilst developing them for performance. Watch the video of his winning performance in 2015 at the bottom of the page...
As with all our favourite trainers, Tik is also a remarkable people person, knowing instinctively how to get the best out of the horse/rider combination and inspiring confidence and progress in all his students.
24th-26th July
Attington Stud, Thame, Oxfordshire OX9 7BY
See Attington facilities here
Clinic Format
09.30-18.00 daily
Over three days riders will be coached through a series of horsemanship and schooling exercises on the ground and in the saddle, on the flat, and over jumps, with a view to the continual improvement of the confidence and ability of the horse/rider partnership, mentally, emotionally and physically.
The clinic will take in place in the outdoor arena and the all-weather cross country course.
Each day will start with a theory session in the classroom, on the main yard, opposite the indoor arena
Pre-requisities
Riders of mixed, competent levels are welcome and will be grouped according to ability. For the more advanced jumpers, there will be lots of opportunity to challenge yourselves over bigger fences and combinations. For those not yet ready to put your hearts in your mouths (!) Tik is equally happy to coach entire sessions over cross poles!
Booking and Liability Release Form
Riders please download, complete and return to us
Please note rider deposits are non-refundable as standard. In the event that you are unable to ride we will do our best to fill your place, but will only be able to offer a refund, less administration fee, in the event that we are able to do so.
Spectating is £30 per day, £50 for two days and £75 for three days. 
Please note spectator tickets are non-refundable
Online bookings close midnight on 22nd July. On the door prices £40/day £60/two days £90/three days.
Parking: Spectators, please use the Equestrian Entrance and park your cars in the smaller area on the right as you drive in, to make way for visiting horseboxes using the XC course.
Food: Tea, coffee and biscuits will be available all day from 09.00, but please bring your own lunch, refreshments and anything else you might need.
Dogs: We love dogs, but please leave yours at home!
Camping: You are welcome to stay on-site in your vehicles, but please note there is no hook up and no tents are allowed.
Amy Brookbanks and Pudding   (photo courtesy of Lorraine Porter)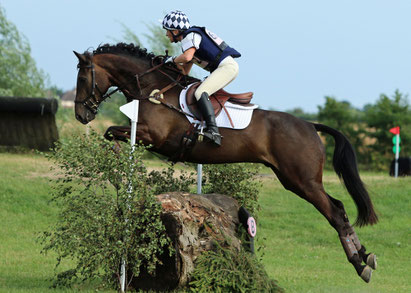 I just wanted to say a big thank you for organising such a fantastic clinic last weekend.  As a horsemanship novice and being from a traditional pony club and eventing background, I didn't really know what to expect.  I was overwhelmed by how welcoming and supportive everyone was.  I genuinely felt like part of the family!
As for Tik, what can I say.  He has an incredible presence and is a truly inspirational horseman.  His natural way with both horses and people is something very rare.  I have taken so much away from the classroom, groundwork and ridden sessions, and feel like I have a renewed energy to put his teachings into practice.  The changes my horse and I made in one weekend surpassed all my expectations. 
What has also been a welcome bonus, are the connections I've made.  I'm teaming up with Hanna and George this weekend to go cross country schooling, and have been liaising with Debbie to arrange some Science of Motion training with her.  Can't wait to get started; onwards and upwards!
Jennie Blakehill and Rupert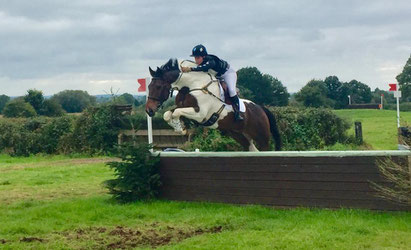 Thank you all for a wonderful weekend. It was so great to spend time with like minded people and see the fantastic changes in each horse and rider.
Looking forward to next year!
Many thanks to Organised Equestrian for this great clinic!
Hanna Walton and (baby) George
Still reflecting on one of the most positive and insightful learning experiences I have had in the past five years! What an amazing few days and such a great group of like minded and supportive people. I feel very lucky to have met and learnt from you all. Not to mention of course, Tik - what an inspirational horseman and communicator! Thank you Larisa and Nicole for making it possible!
Thoroughbred Makeover Challenge 2018
Tik talks about 'In The Middle Are The Horsemen'
---