---
"A gifted horse will lead a good rider to victory. A great rider will give the horse the gift of soundness"
Jean Luc Cornille
---
DUE TO COVID-19 THE MAY CLINIC HAS NOW BEEN POSTPONED TO OCTOBER. ALL RIDER AND SPECTATOR PLACES HAVE BEEN TRANSFERRED. PLEASE CONTACT US IF YOU HAVE ANY QUESTIONS
October 29 - November 1 2020 
Venue: Attington Stud, Tetsworth, Thame, Oxfordshire OX9 7BY
09.00 - 17.30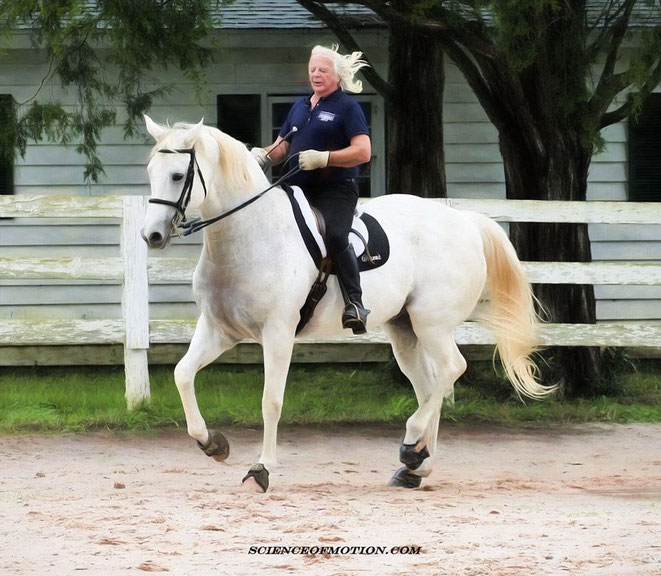 The Science of Motion is a new approach to therapy, which, instead of treating the damage, addresses the kinematic (characteristics of motion) abnormalities that cause the pathological changes which lead to lameness in the first place. The approach has been used to successfully prevent and rehabilitate lamenesses, where other therapies have been ineffective, underlining the capacity of the horse's physique to heal efficiently, so long as the source of the abnormal stress has been corrected.
The Science of Motion approach works based on the scientifically proven fact that the kinematic abnormality is there first and it is the repetition of abnormal kinematics that causes injury. By correcting the abnormality, if done early enough, it is possible to prevent pathological changes. Once damage has already altered the integrity of the muscle, ligament or bone structure, correcting the kinematic abnormality is imperative for recovery and soundness.
The Science of Motion approach has been successfully utilised to rehabilitate many different chronic disabilities including severe cases of navicular disease and kissing spine.
Every horse moves differently and since none move perfectly, especially with a rider on their back, even minor defects in gait can eventually result in lameness. As with human athletes, careful analysis of how a horse moves and the use of an individualised training program can both enhance performance and rehabilitate injuries, including those resulting in chronic lamenesses. The Science of Motion is a new approach to training and therapy, which is based upon identifying and correcting the specific gait abnormalities inherent in each horse. This approach was developed by Jean Luc Cornille, an international level Three-Day Event rider and trainer, who has extensively studied equine movement. His skill, experience and research has allowed him to perfect methods that can be used to correct the imperfections of gait that inhibit a horse from reaching its full athletic potential and often lead to lameness.
The May clinic is now full. Please email us to be added to the waiting list. If you would like to apply to ride on the October clinic, please contact us using the form at the bottom of the page.
Please note rider deposits are non-refundable as standard. In the event that you are unable to ride we will do our best to fill your place, but will only be able to offer a refund, less administration fee, in the event that we are able to do so.
---
All riders need to complete and return the booking form below once you have paid your deposit.
See document below for the 2019 Rider Schedule and information on all the riders on the clinic in November 2019!
Book your tickets using the PayPal button below
Please note spectator tickets are non-refundable
Checkout with one ticket before 9pm and receive an email confirmation for two!
Free tickets apply to the same day of booking only.
---
Online bookings close midnight 27th May. On the door ticket prices are £60/day or £135 for three days.
---
"Lightness is not the bit. Lightness is perfect control of forces and therefore balance. Lightness is efficiency and efficiency in the horse is lightness. "
Jean Luc Cornille
Spectator feedback from previous clinics...
Thank you Jean Luc Cornille for a truly inspiring weekend! After spending two years riding lame and miserable school horses at university and my new ex racing TB being so sore from his racing career, I had come to the conclusion that it is damaging and therefore ethically wrong to ride horses. 
To find your work, whilst researching kissing spines was a dream, but in my head, I thought it was work I would never have the skill to do with my horse. 
To hear you say that it takes time and that it can be frustrating but that anyone can do it has given me the courage to try. Finding a way of riding which is actually beneficial to the horse has inspired me to dig out my riding hat. 
😃
😃The fact that your work is based in sound science helps as I am fascinated with biomechanics and the way horse and rider interact together. Wonderful!
Jule Dexter
I can recommend this clinic. Jean Luc Cornille is a great teacher and gives you every practical tool you need to train horses thoughtfully for long term soundness and expression.
Helen Prentice
Fab day! Lots learnt. Thank you very much for hosting a lovely event! Should have bought more clothes 
😆
Catherine Campbell
My head is still buzzing from this clinic. A real eye opener! Definitely need to brush up on my anatomy & physiology! So many takeaways, but the one that really needs to be heard is 'The neck can not place the back, when the back is working properly, the neck will place itself. And to remember that every horse has a slightly different natural neck position'. Stay sound and healthy folks!
Emma Jones
Just to say thank you for organising this fantastic clinic. I spectated on the Friday (would have done more but didn't hear about it until recently). It was fascinating and inspiring and I can't wait to get started to help my horse.
Arnold Lykes-Hay
Tea, coffee and biscuits will be available all day, but please make your own provisions for lunch - the town of Thame is a few minutes drive away should you need to buy anything on the day and there is a pub within walking distance of the venue which serves food
The clinic is indoors and seating is provided
Please bring layers to keep warm!
09.00 - Lecture
10.15 - Break
10.30 - Lesson 1
11.15 - Lesson 2
12.00 - Lesson 3
12.45 - Lesson 4
1.30 - Lunch
14.15 - Lesson 5
15.00 - Lesson 6
15.45 - Lesson 7
16.30 - Lesson 8
Attington Stud is 5 minutes off the M40 at junction 6.
As you drive down the road into Tetsworth, there are two entrances that come up on your right. The first has large wooden gates. These are the gates to the main house, please do not use this entrance! The second has a black wrought iron electric gate and is signposted 'Equestrian Entrance'. Please use this entrance.
The XC course at Attington Stud is used throughout the day by visiting horses. Please park with consideration, starting from the far right.
We kindly ask that dogs are left in the car and excercised off site.
Dogs are allowed in the lorry park only. 
Below is a short list of local Bed and Breakfast accommodation. There are lots of accommodation options in the area, easily found by doing a Google Maps search. Please contact us if you need any help finding somewhere to stay
Local Accommodation
The Old Red Lion
01844281274
www.theoldredliontetsworth.co.uk
The Fox and Goat
01844 339 808
England's Rose
01844 281 333
Thame Lambert Hotel
01844 351 496